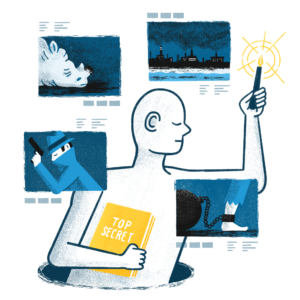 Investigative journalism is a type of journalism that involves very thorough investigation work on complex issues such as corruption, organized crime, financial crimes, environmental crimes, and irregularities in public procurement.
The very first use of GlobaLeaks was by grassroots investigative journalist groups to receive sensitive information from whistleblowers on cases of corruption. Thanks to the Tor Browser, GlobaLeaks guarantees the highest level of anonymity.
On the international level, there are numerous journalism projects that offer sources anonymity through the use of GlobaLeaks: the French newspaper Le Monde launched the Sourcesûre platform in 2015. Across Europe, the Investigate Europe project is active, consisting of 9 investigative journalists, who use the GlobaLeaks software to receive information and documents on some issues of European significance.
GlobaLeaks has also been used as a collaborative whistleblowing tool by groups or consortiums of different media agencies. A few examples of these multi-stakeholder platforms are PubLeaks in the Netherlands, MexicoLeaks in Mexico, and IndonesiaLeaks in Indonesia.
The continental project Platform to Protect Whistleblowers in Africa (PPLAAF) uses GlobaLeaks to support African whistleblowers who decide to report wrongdoings. In Angola, Makaleaks offers the possibility of anonymously sharing information regarding criminal or illegal activities committed by politicians and government officials.