Whistleblowing is considered among the most effective and powerful means to expose and combat crime, corruption, and public health threats. In particular, digital whistleblowing is being more and more used to fight corruption, defend human rights and the environment, for civil rights activism and electoral integrity monitoring, as well as for permanent watchdog initiatives such as investigative journalism groups and independent media. Because digital whistleblowing is an enormously effective and adaptable tool for all of these initiatives, we seek to support and strengthen it in a coordinated, sustainable, and impactful effort.
The Digital Whistleblowing Fund is an experimental small-grant program that enables investigative journalism groups and human rights grassroots organizations to apply to receive financial, operational and strategic support in starting a secure digital whistleblowing initiative based on GlobaLeaks.
Grassroots organizations that set up digital whistleblowing projects include investigative journalists and groups, human rights and environmental activists, anti-corruption groups, media and free speech activists, and many more. However, they are often underfunded and lack the specific and mixed set of skills in essential areas to successfully run a whistleblowing initiative: strategic, organizational, legal, IT, and security.
The Digital Whistleblowing Fund has been running following thematic rounds including anti-corruption, gender-based violence, the rights of minorities, migrants, and refugees. For each round, the selected Jury members are experts stakeholders in the fields we are addressing.
Today we would like to highlight five among the winning projects that are now up and running. They are diverse initiatives from different grassroots organizations in Europe dedicated to countering corruption and fighting against human rights violations through investigation, legal action, practical support and research.
1 – IrpiLeaks
Site: http://ufwb2nvrbad2tx5j.onion (accessible via Tor Browser)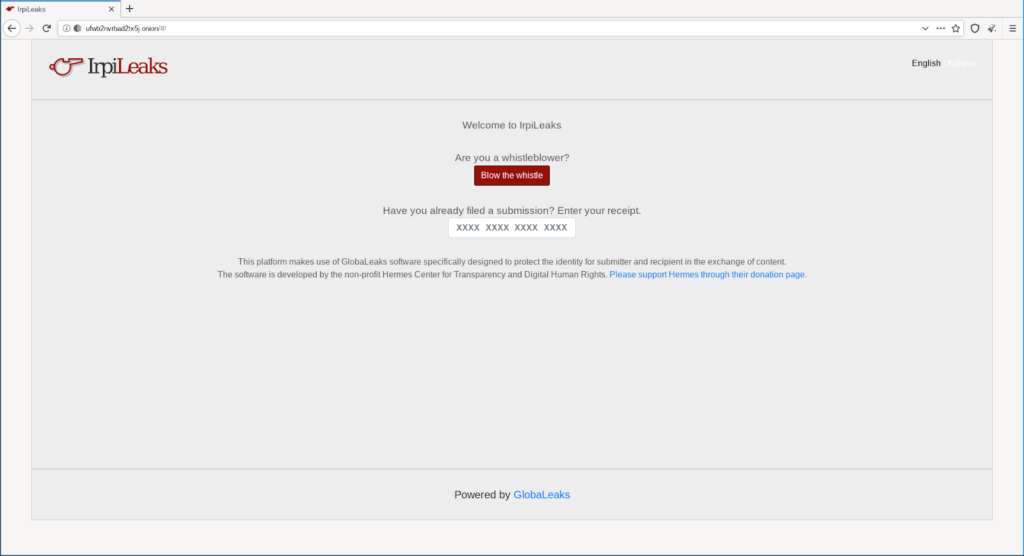 IrpiLeaks is the whistleblowing platform of the Investigative Reporting Project Italy (IRPI), the first transnational center of investigative journalism in Italy, which has decided to launch an investigative journalism endeavor for their online magazine IrpiMedia aimed at collecting anonymous leaks from whistleblowers. IrpiMedia team investigates wrongdoings in the sector of public administration, rigged procurements, scams, frauds, corruption, environmental crimes, and organized crime networks and related activities?
"The fund allowed IrpiMedia – an online magazine focused on organized crime and corruption related issues – to both implement a modern and up-to-date whistleblowing platform and to have the needed human resources to manage it. We believe both conditions – that were met also thanks to the funding – are an essential part of a modern newspaper. Since the funding, IrpiLeaks has received more than 20 submissions, 3 of them resulted in a publication on IrpiMedia."
Lorenzo Bodrero, Co-founder of IRPI
2 – Lost in Europe
Site: https://tip.lostineurope.org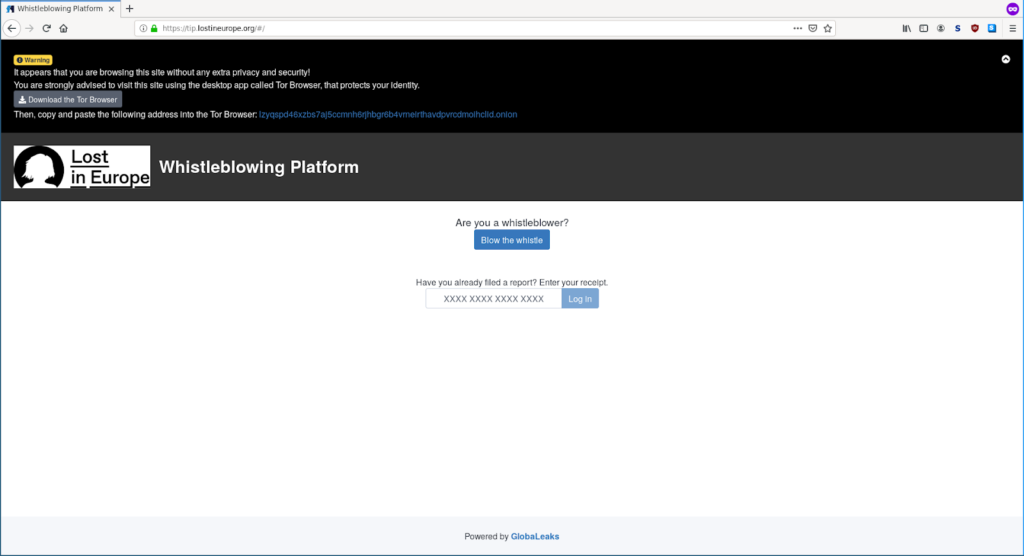 Lost in Europe in a cross-border investigative reporting project focused on the issue of unaccompanied child migrants, one of the most pressing issues in the migrant crisis. The goal of Lost in Europe is to recover the stories of these missing children. It comprises a team of investigative journalists from the Netherlands, Belgium, Italy and the UK, who are collaborating to find out what has happened to the disappeared children in Europe.
3 – Tracking Exposed
Site: http://cx4al2hxqtf4swuv4kewdeqgixwsmfmzkel5otw5ef33xkdkxh3cs7id.onion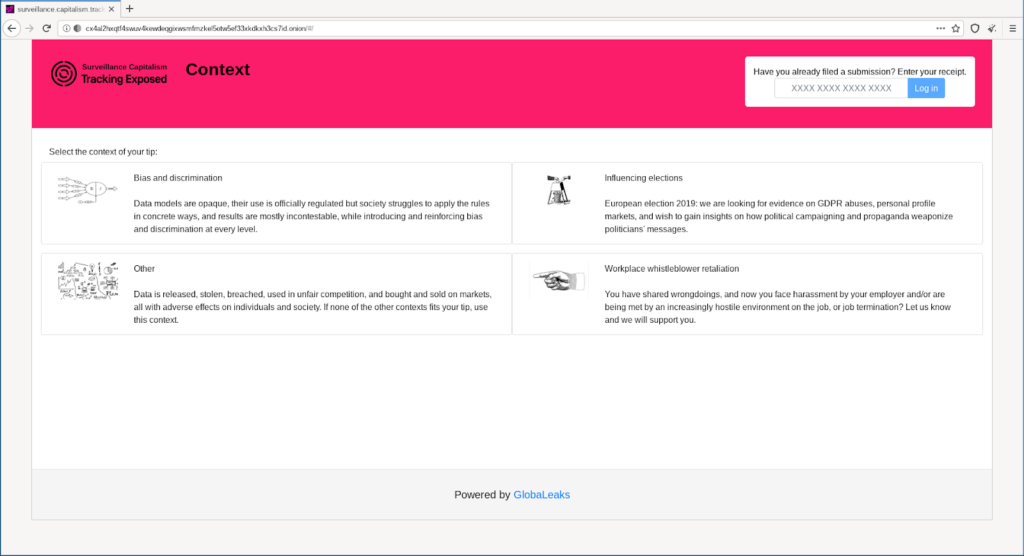 (accessible via Tor Browser)

Tracking Exposed is a tech and human rights initiative that aims to expose how tracking and profiling from user data has a negative impact on society so that proper political and civil actions can be taken. With the support of the Digital Whistleblowing Fund, they launched "Surveillance Capitalism Tracking Exposed", a secure whistleblowing platform to receive reports on wrongdoings regarding data uses and breaches in connection with bias and discrimination, influencing elections, workplace whistleblower retaliation and any cases where data is released, stolen, breached, used in unfair competition, and bought and sold on markets, all with adverse effects on individuals and society.
4 – Transparency International France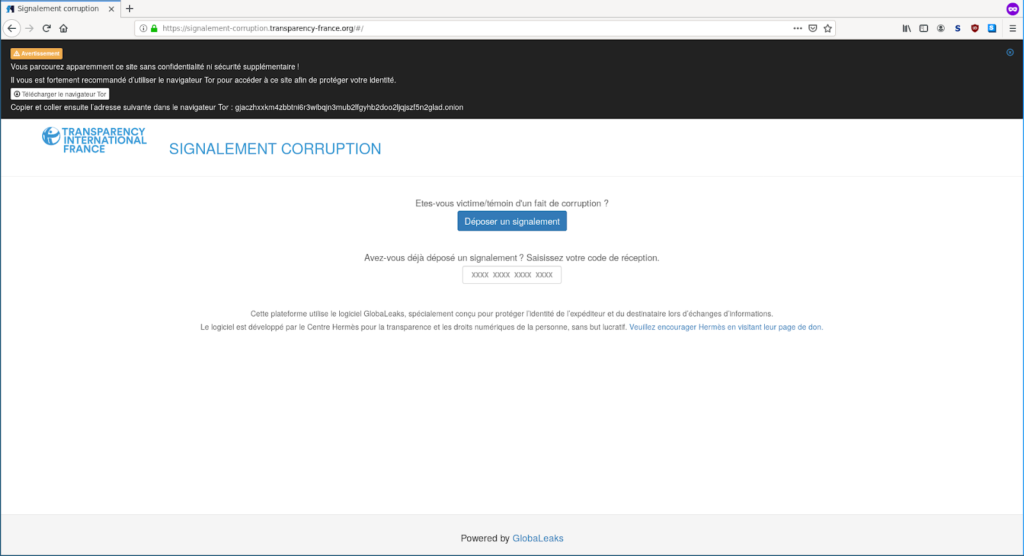 Site: https://signalement-corruption.transparency-france.org

Transparency International France is the French branch of Transparency International, an NGO operating in over 120 countries and the leading civil society organization in the fight against corruption. They created the first hotline dedicated to victims and witnesses of corruption in 2014 and co-founded along with 16 other organizations, La Maison des Lanceurs d'Alertes (House of Whistleblowers). More than 1000 citizens have contacted their Advocacy & Legal Advice Centre (ALAC) since its creation, and 768 reported cases, some of which led to legal action. Thanks to the Digital Whistleblowing Fund, TI-France in collaboration with Nothing2Hide launched its secure GlobaLeaks-based whistleblowing platform in order to receive highly sensitive documents from victims and witnesses.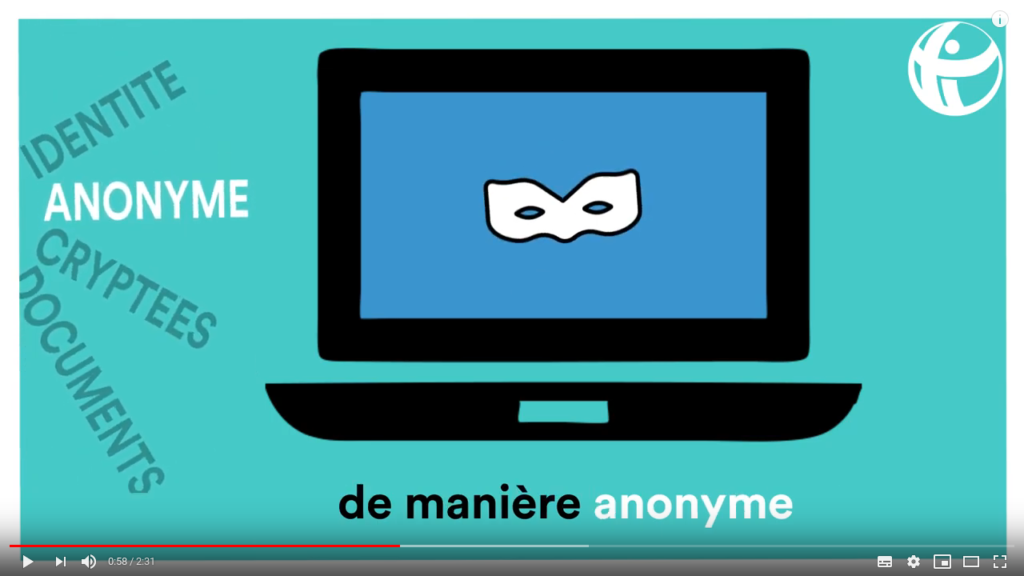 5 – Transparency International Ireland

Site: https://helpline.speakup.ie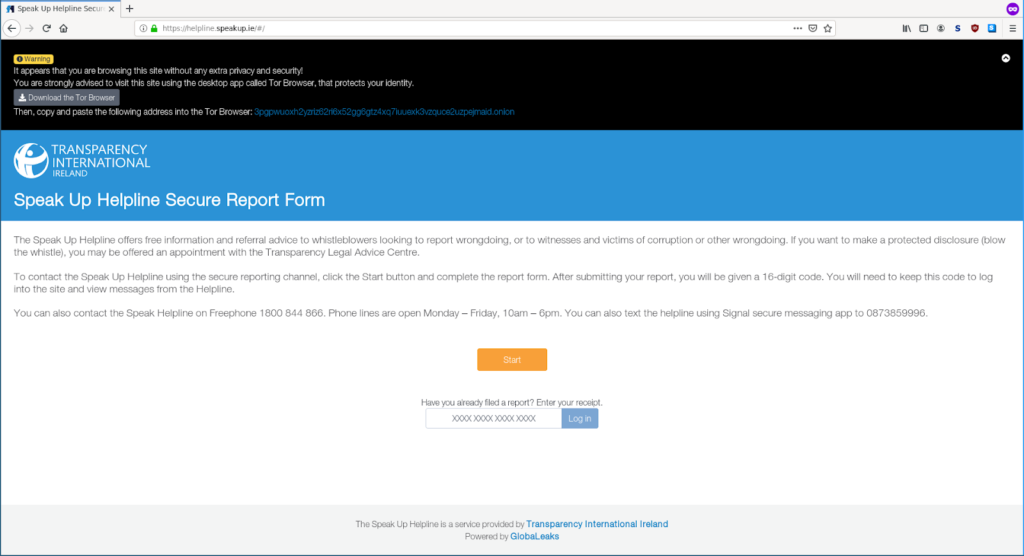 Transparency International Ireland is the Irish chapter of the worldwide movement against corruption. It was founded in 2004 and is part of the only global organization dedicated to stopping corruption worldwide. TI Ireland has operated the Speak Up Helpline since 2011 and supported over 1,000 people since then. The helpline offers free advice to people on how to report wrongdoing and also channels whistleblowers to the Transparency Legal Advice Centre (TLAC) for legal advice on whistleblowing. Ti-Ireland applied for the Digital Whistleblowing Fund to seek support in implementing a secure bi-directional platform without having to become proficient in the use of encryption.
"We were very fortunate to succeed in a small grant application with the Digital Whistleblowers Fund. The support provided by the Hermes Centre in setting up our Globaleaks whistleblowing platform was instrumental. They are patient and understanding, and are happy to help out and explain things where you might not have the technical expertise to understand the finer details. Their help and support throughout this project means that all whistleblowers can easily contact our organisation securely, even where they don't have the technical know-how to use PGP-encryption themselves."
Donncha Ó Giobúin, Speak Up Helpline Coordinator