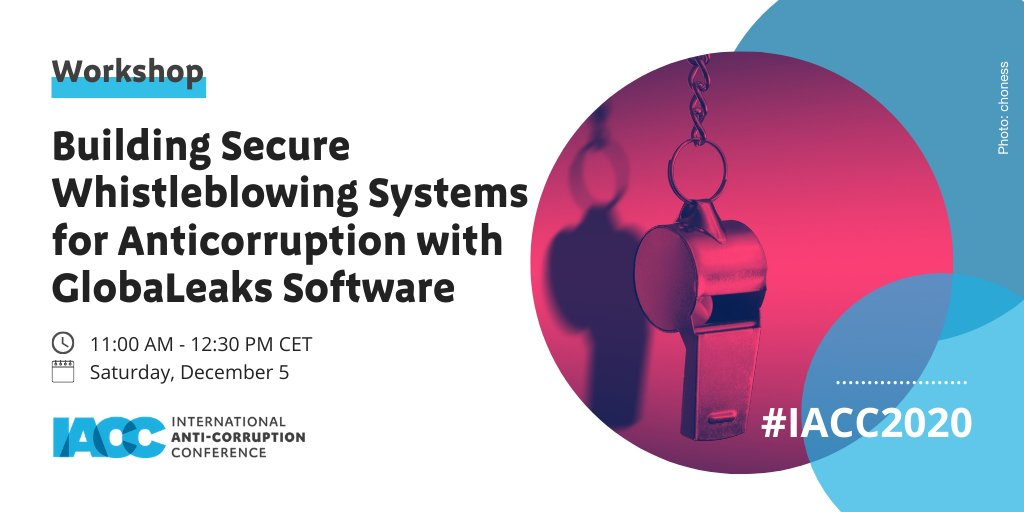 Hosted by: IACC International Anticorruption Conference
Many organizations already have channels for whistleblowers to receive reports on corruption cases, but often these channels don't allow to receive useful information in a safe way for both the reporting person and the organization itself and doesn't protect the identity of the whistleblower and the information exchange properly.Understanding the power of anonymous digital whistleblowing in allowing more and more citizens to speak truth to power, the hacktivist community engaged in a number of research projects in order to create an accessible, secure, and easy-to-use whistleblowing tool. Since 2011, "GlobaLeaks", a free open source software enabling the easy creation of anonymous whistleblowing, has been used worldwide by more than 2000 media, NGOs and and companies to create web-based "dropboxes" or contact pages that whistleblowers can access anonymously through the Tor Browser to report and share evidence of wrongdoings. GlobaLeaks team together with experts from different projects that have adopted the software will describe the work done and collect the comments of other organizations using the same technology around the world.
The workshop aims at improving the knowledge and the capacity of civil society organizations in:
– Collecting online reports about corruption from citizens;
– Investigating the cases;
– Protecting the sources;
– Strengthening the security measures of the organizations.
Speakers:
Alison Matthews – Transparency International Secretariat
Andrea Crosta – Earth League International / Wildleaks
Davide Del Monte – Transparency International Italia / Info.nodes
Ines Lopez Branco – Expanding Anonymous Tipping (EAT)
Edu Martín-Borregón – Poder – MexicoLeaks
Simona Levi – XNET
Rima Sghaier – GlobaLeaks / Digital Whistleblowing Fund
Giovanni Pellerano – GlobaLeaks
Fabio Pietrosanti – GlobaLeaks
Workshop page: Building Secure Whistleblowing Systems for Anticorruption with the GlobaLeaks Software
Workshop recording at: https://19thiacc.pathable.co/meetings/virtual/pQ78CaYawo7ftkaog