GlobaLeaks team is thrilled to welcome our new Project Manager, Susanna Ferro!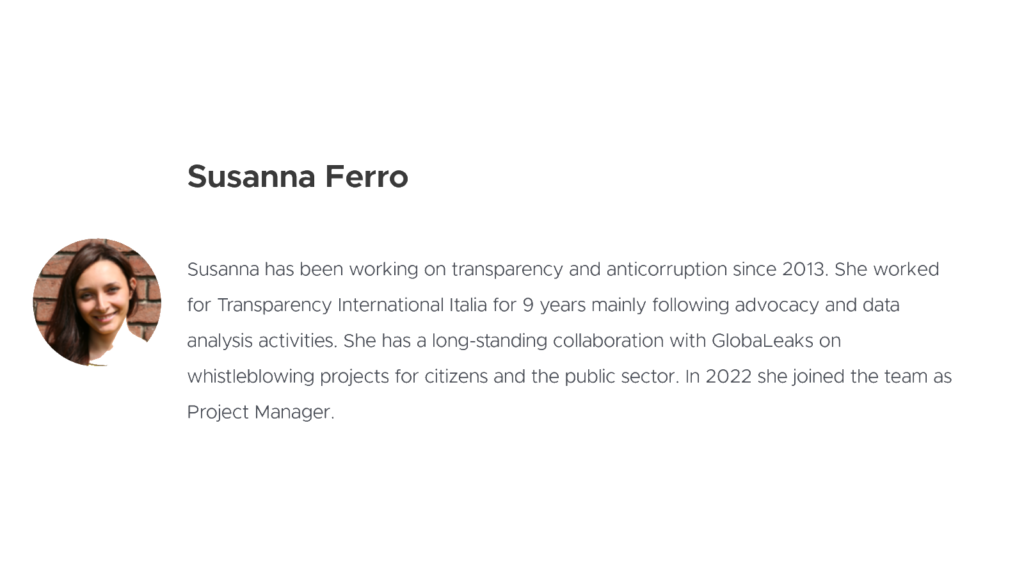 As the GlobaLeaks project continues to grow, having Susanna onboard is an incredible asset allowing us to dedicate more time and skills to refocus our development strategy, and strengthen the ways we best support our rapidly expanding user community worldwide.
We are delighted to present her to you:
Susanna has been working on transparency and anticorruption since 2013. She worked for Transparency International Italia for 9 years. At the beginning she was more focused on communications activities while in the last years her main role was managing projects focusing on the promotion of transparency of political financing and lobbying activities and advocating for improvements in the legislation. The advocacy work that led to the approval of the Italian whistleblowing law was part of that and was one of the most challenging and successful actions ever done. Data analysis was another activity of interest and in this field she coordinated several researches on politics, like the one that led to the creation of the web portal "Soldi e Politica", and analysis on business transparency, like the report "Technologies and Business Integrity" and the "Business Index on Transparency".
In her work on whistleblowing she collaborated many times with GlobaLeaks before joining the team in November 2022 as Project Manager. In this role, she is in charge of managing and coordinating the activities of the project. She is also keen to develop new projects and initiatives to further increase the capacity of the GlobaLeaks methodology to have an impact in all the 4 fields of application: anticorruption, corporate compliance, investigative journalism and human rights protection. In the last field, in particular, the experience gained over the years might support the project to expand its values and protect people all over the world by expanding tools and methodologies that help them securely report illicit behavior and misconduct.
GlobaLeaks has in fact the capacity to support secure communications, but also to develop best practices to fight against corruption, violence and other crimes. In the coming years it would be amazing to have the GlobaLeaks framework implemented by every kind of actor who is willing to adopt an open source technology for improving the context in which they are operating to the benefit of vulnerable people.
Out of work Susanna is a proud mom of two amazing little girls from which she learns new things every day. She also loves making people happy with her food and spending time going hiking in the mountains.